Dear Chuck,
An acquaintance at work recently shared the trauma a close friend experienced planning a sudden funeral then discovering criminals had accessed his deceased family member's bank accounts. How can we protect ourselves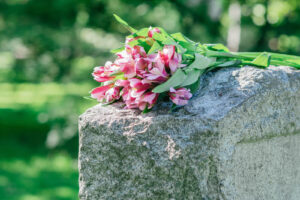 and prepare for the inevitable?
Concerned
Dear Concerned,
It's hard to believe, but there are scammers who prey on the vulnerability of those grieving the death of a loved one. To protect your family members and others facing the same scenario, I've gathered some helpful tips on a variety of issues.
Guard Personal Information
Criminals are experts at retrieving personal information from hospitals and funeral homes. They study published obituaries.
So, when writing an obituary, do not give the decedent's birthdate, address, mother's maiden name or any other information thieves can use to their advantage. Unfortunately, criminals can purchase a Social Security number online for as little as $10, and with little information, access accounts, open new ones, file taxes and even collect refunds. Even family members, favorite pets, and memberships in organizations are pieces of info they can piece together to hack your accounts. Shocking, but true! The less information you give, the better you are protected.
Guard Against Imposters
Criminals may also pose as Debt Collectors, calling and threatening legal action if you don't pay fees they say you owe to release important documents. They sound legitimate and are armed with information, but you should never, ever make payments or release information over the phone. Ask for their name, phone number, and company so you can return the call. They usually hang up. If you suspect this is a legitimate debt, you should still wait and call them back after getting legal advice, because you may not be responsible for the debt.
Thieves may pose as Insurance Agents claiming a loved one left you a large insurance policy. Their ploy is to wire the money AFTER you pay the final premium payment. Some pose as lawyers, claiming you need to pay a fee to process the inheritance. ALWAYS ask for details and refuse to pay fees. Sometimes a secret inheritance or policies are left, just be discerning.
People have also been targeted by fake IRS Agents who demand information by phone or email. But the IRS does not initiate contact with taxpayers to request personal information or call with threats of lawsuits or arrests. Block and delete these numbers if they continue.
Sometimes long lost relatives attend funerals – some may be legitimate but others may be posing. Screen them thoroughly, confirm identity with other relatives, and ask imposters to leave. If they insist they are owed inheritance, money, or property, call your attorney.
Funeral and Burial Pricing
A federal regulation called the Funeral Rule protects consumers by requiring funeral businesses to give clear pricing information. A general price list helps people choose only what they want to purchase. Funeral homes cannot require services that are optional by law, like embalming. You should not be charged extra if you choose to buy a less expensive casket elsewhere.
Ask for any legal cemetery or crematory requirements. Don't give in to sales pressure, manipulation, or guilt. Costs add up quickly, so take a discerning friend or relative with you to help you make decisions and stay within budget.
Request that someone stay in your home during the service. Burglars can easily find out funeral arrangements and your home address.
Who to Notify
Get at least 12 certified copies of the death certificate.  Provide copies to the IRS, VA, DMV, Equifax, Experian, Trans Union, banks, brokerages, credit card and mortgage companies, insurance firms, etc. Use certified mail and keep track of where certificates are sent.  Immigration agencies, public libraries, fitness clubs, and private organizations will need to be notified as well. Cancel the driver's license to prevent fraudulent duplicates from being issued and used in criminal activity.
Request "deceased alert" on the decedent's credit report. Arrange with each credit bureau to get a copy of his/her credit report to review lists of accounts and credit card activity. Check the credit report in six months for any suspicious activity and notify the police if anything looks odd.
Documents proving you're the spouse or estate executor will be needed if someone asks you to demonstrate authority in representing the deceased's estate.  This is where a binder of all necessary paperwork needed upon death is a gift to your family.
File your loved one's tax returns for the year in which they died and as early as possible.
Surviving Spouse's Checklist
Crown and Bare Wealth Advisors have prepared a checklist of actions we advise for the first 48 hours and the following weeks of a loved one's passing. It's an easy guide to follow for a very difficult and emotional time.
Remember – you can be a wise steward when facing life or death. Nothing can separate you from His love. David wrote in Psalm 23: Even though I walk through the valley of the shadow of death, I will fear no evil, for you are with me.
Originally published on the Christian Post, June 16, 2017
To #Ask Chuck @AskCrown your own question, click here:
Chuck Bentley is the CEO of Crown, the largest Christian financial ministry in the world, founded by the late, Larry Burkett. He is an author, host of My MoneyLife, a daily radio feature, and a columnist for the Christian Post and a well-known speaker.