10 Ways to Avoid Overspending on the Biggest Shopping Day of the Year
According to the Balance, 133.7 million Americans went shopping on Black Friday weekend in 2014 and spent a total of $50.9 billion. Stores count on bringing in at least 30% of their annual sales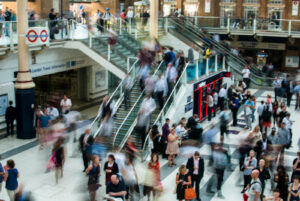 just between Thanksgiving and Christmas, making you the apple of thousands of marketer's eyes.
So how can you avoid getting dragged into the biggest shopping day of the year and find the best deals while not breaking the budget?
Here are 10 tips to keep you from overspending this holiday season.
Create a budget. This may seem obvious, but you have to plan ahead and know how much you'll spend before you start. In order to have an accurate budget, start saving early and don't budge on the bottom line.
Make a list. Think through every person you need to buy a gift for and try to decide what to get them before you go shopping. Spending some time planning up front can keep you from overspending once you start shopping. And it wouldn't hurt to check your list twice.
Do your research. A lot of stores start their promotions early and will let you know what sales they'll be running in advance. Once you've created your shopping list, do your research. Look up where you can find the best deal on the item.
Shop online first. By buying gifts online, you can spare yourself the temptation of enticing store displays and cash in on convenience. Just make sure you think through shipping and handling costs. Some stores offer an in-store pick-up option if you purchase the item online. Again, be prepared and plan ahead.
Laser focus. If you go to the stores, stay focused! Ask an employee where the exact items from your shopping list are and go straight there. Don't let yourself get distracted or sway from your shopping list and budget.
Avoid trigger stores. Many of us have that store that seems to speak to us when we walk in the door, telling us to buy things we don't need and may never use. If you have a store like this, avoid it at all costs! It is the most likely to wreck your budget and leave you with buyer's remorse.
Go alone. If at all possible, go alone so you aren't distracted by kids wanting presents or friends encouraging you to buy unnecessary items. However, you can, put together a shopping team of highly skilled shopping professionals (or just some great friends) to help you divide and conquer the packed stores on Black Friday. There can be strength in numbers.
Set a time. Allocate a specific amount of time for you to go shopping. Schedule an appointment or set a timer to make sure you get out of the store on time. This will help you stay focused and on-task.
Shop for others. Don't look for any of your favorite items. Write up your own Christmas wish list while you are making the shopping list for others and don't allow yourself to look down your favorite aisle.
Accountability. Have a friend or spouse check your receipts and bags when you get home (assuming their gift is not inside). Take back anything that was not on your list or in the budget. Just the thought of being accountable to someone else may help you avoid the temptation in stores.
Hopefully these tips help you have a very merry Christmas within your budget and set you up for success in the New Year! Check out this survival guide printable and find more helpful tips like these at Crown.org.