Dear Chuck,
I know I need to save, but I just can't. I make good money but find that I'm barely scraping by every month. My lifestyle is comfortable but fragile. What should I do, even though I don't really want to change? 
Comfortable but Concerned 
Dear Comfortable but Concerned, 
Thanks for your honesty. Most people will never admit that they don't really want to change when they are comfortable. I am pleased to see you also acknowledge that living without any savings makes your situation very "fragile." 
Benjamin Franklin knew that what you save is just as important as what you earn. He said, "If you would be wealthy, think of saving as well as getting." The Bible teaches that! 
"Go to the ant, O sluggard; consider her ways, and be wise. Without having any chief, officer, or ruler, she prepares her bread in summer and gathers her food in harvest."
(Proverbs 6:6–8 ESV)
So, like the wise ant, Christians should practice saving money on a regular basis, even those who are in debt. 
Small $5 Purchases May Be the Giant Problem
Perhaps you fall into the category of consumers who think, "It's only $5, no big deal… why not buy it?" This mentality of being carefree with small purchases is normally what prevents many from saving. It propels others into a dependency on perpetual credit card debt.  
Why do we spend on what we do not need?
Impulse shopping

Seeking happiness or fulfillment

FOMO or peer pressure

Expressing identity

Souvenir of a great time

Desire for security or power

Buying under the influence

Not using cash or a budget

Faulty thinking
Discipline is required when it comes to managing money. Otherwise, we spend all that we have—and more— on ourselves! Discipline means saying "No" to things that we don't need today so we can say "Yes" to things we will need tomorrow. God requires that stewards have a faithful heart and disciplined hands. This is pleasing to Him and gives us the capacity to be generous. 
"The wise man saves for the future, but the foolish man spends whatever he gets."
(Proverbs 21:20 TLB)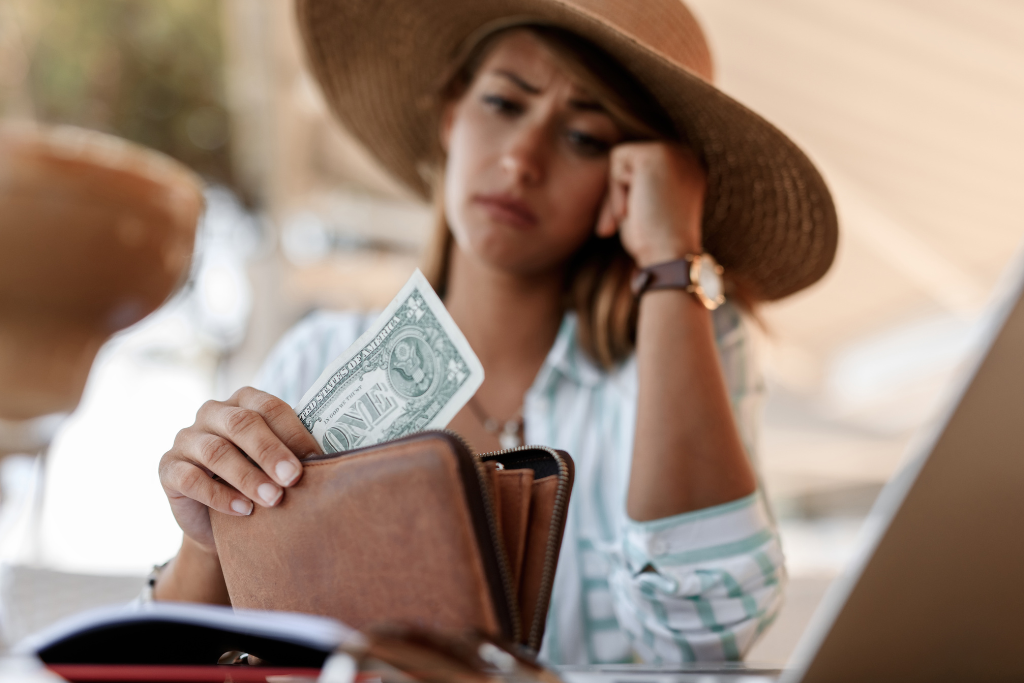 Saving and Dependency 
We need a financial surplus to meet unplanned expenses and to share with those in need. However, perceived financial "independence" can be a hidden form of financial dependence, relying on money instead of the Lord. Hebrews 13:5 should govern our attitude: "Keep your life free from love of money, and be content with what you have, for he has said, 'I will never leave you nor forsake you.'" The implication is that money will leave you and forsake you. God never will. Never rely on money as a substitute for total dependence on the Lord.
To save, you have to plan. Make some sacrifices to meet your goals, and the savings earned will far outweigh whatever pleasure you forfeit. Sometimes, all that is required is time to plan meals, shop sales, find free entertainment, and have some creativity for gifts and vacations. Other times, extra income is needed. The easiest way to save money is to simply spend less:
Set realistic saving goals.

Set lifestyle parameters.

Track spending, and use a budget.

Aim to save $1,000 in an emergency savings account. 

Use automatic transfers.
Wealthy Yet Fragile 
Chad Johnson "Ochocinco," a former NFL wide receiver, saved 83% of his salary by living frugally throughout his playing career. Despite the fact that he earned more than $48 million, he flew coach and bought fake jewelry at Claire's. He claims to have lived a while in the Cincinnati Bengals' stadium rather than spend money to purchase or rent a home. He said, "The more you make, the more you spend, if you have no discipline and no structure." 
Other NFL players did not fare as well. They invested in bad business ventures, trusted unscrupulous money managers, had failed marriages ending in divorce and child support, or spent wildly when succumbing to peer pressure. Dan Marino, Vince Young, and Luther Elliss are among those who lost millions. The "It's only $5" mentality became "It's only $5,000, why not buy it?" Your finances will always be fragile, no matter how much you earn, if you spend all that you have month after month. 
Spenders can become savers by intentionally changing their mindset. They know, "If I save $5 a day, I'll have $6,465 in just one year!" They can ignore the pull of the world because they find greater security, power, impact, and joy in living and saving God's way. 
Do you want more tools and tips regarding financial freedom and purpose? Are you interested in receiving ministry updates from around the world? Sign up to receive the Crown Newsletter emails by using the form on the homepage at Crown.org.
This article was originally published on The Christian Post on October 6, 2023.