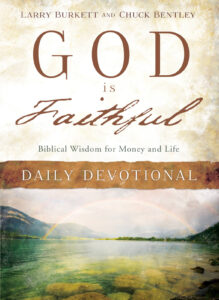 You'll find how applying practical, biblical principles can transform your finances…and every area of your life. Chuck and Larry deliver hope to you and your family in this inspirational collection of 365-daily devotionals. Learn to be a wise steward of your resources and discover biblical insights for giving, debt, money, and investing.
Crown Financial Ministries is a 501c3 nonprofit organization supported by donor funding and product sales. Our mission is to train God's followers to be good and faithful stewards in their personal finances and career. Read more about Crown's ministry in action here.

Our team strives to provide high-quality, relevant content like these blogs and other free resources to help you on your journey to true financial freedom. If you have been helped or encouraged today, please consider supporting Crown's ministry by making a donation.