The late Larry Burkett, Crown's founder, believed that an excellent wife, as described in Proverbs 31, should be her husband's primary earthly counselor. The same is true for a husband – as the spiritual leader, he should be the first to advise his wife. Spouses should be primary earthly counselors for one another.
Larry observed that in a family business, the one spouse can be either immersed in the day-to-day operation or totally isolated from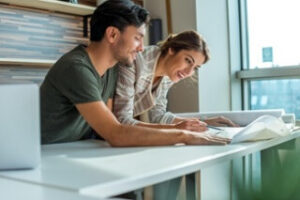 any vital input. It can be difficult to find a healthy balance, especially if one spouse stays at home or is employed elsewhere.
If you are the less-involved spouse, be careful to not become ignorant of your spouse's business. You are no longer two – you are one and must learn to function as a team. Learn how to communicate about the business and the expectations of involvement from one another. Also be careful to not become demanding – respectfully ask about and listen to the problems, success, excitements, and disappointments that are bound to happen.
If you are the involved spouse, always remember to listen to and weigh your spouse's advice heavily. You don't have to always think they are right or give them the final say, but you should give them the benefit of the doubt and act respectfully towards them. The appreciation that comes from a man or a woman feeling listened to and respected can do tremendous things for your marriage…and your business.
No matter what, stay grounded in Scripture. Be willing to give advice, offer alternatives, support final decisions, and leave the results to God. The best way to ensure you're giving sound advice is to seek God's will and immerse yourself in Scripture. You shouldn't need to remind your spouse that your advice is sound – they should already know. And if your spouse doesn't end up taking your advice, don't get your feelings hurt!
Don't ever let your pride come in the way of taking advice from your spouse. Your spouse's intuition could save you from making bad decisions or give you the confidence to try something that pays off in the long run. Remember that your spouse is one of God's greatest gifts to you!
Sharing with one another keeps you both accountable in time, money, and attitude. Like Ecclesiastes 4:12 says, "A cord of three strands is not quickly broken." This is not only true for your relationship but for business as well.
A wonderful way for spouses to get on the same page on what the Bible says about money is with the online MoneyLife Personal Finance Study. It's self-paced so you can complete each lesson on your schedules or pause to tackle practical steps as you work together unto the Lord.