Dear Chuck,
I'm getting nervous about the rising cost of gasoline because of my long commute each day.  How can I avoid having my budget whacked? 
Bring Back Cheap Gas!
Dear Bring Back Cheap Gas, 
You have good reason to be concerned, but it is not all bad news. There are plenty of reasons not to panic. You have a number of good options that I will recommend. 
Gasoline is Moving Higher… and Maybe Lower
Prices at the pump follow fluctuations in crude oil prices. California's known for the highest prices in the nation. On March 16, the Orange County Register reported that the average price per gallon was $3.73, the highest in 67 weeks. One week later, it rose to $3.76, with premium at $4.108. Price comparisons by state can be found here. 
On the 22nd, GasBuddy released a report entitled "Upward Gas Prices Broken as Oil Sags." Although the national average gas price was 22.2 cents higher than a month ago, prices dropped slightly for the first time in 11 weeks. Patrick De Hann, head of petroleum analysis for GasBuddy, addressed the decrease. 
"While gas prices still rose in a majority of states last week, we may see some price decreases in the week or weeks ahead, even as U.S. gasoline demand continues to rally to the highest level since the pandemic started nearly a year ago. It'll be a bumpy road the next few weeks as markets sort out the bearish and bullish factors, but I still believe prices will likely experience more upward momentum ahead of Memorial Day." 
According to Trilby Lundberg, an industry analyst, prices are up due to higher crude oil costs, the February snow storm that shut down Texas refineries and reduced operations, and surging prices on credits for a renewable fuel. 
In an NBC News article, De Hann said we have a supply and demand problem. "Covid decimated demand. It caused a lot of contraction and production cuts. 2020 set things back for U.S. oil production by several years." Now that people are moving about, demand has increased, but production is short of where it was a year ago.
Sergio Avila, of AAA Nevada, says, "This increase isn't something that is just isolated to the west. It's something happening across the country. Every state average has climbed by double-digits since February resulting in 1 in 10 gas stations with pump prices that are $3 per gallon or more." 
Gasoline Prices Impact Us All 
Jean Folger, at Investopedia, shares how gas prices impact the economy. Increased cost of transportation will be felt in:
Food prices go up as a result of more than just transportation. Farmers require diesel fuel to run machinery, and many fertilizers contain oil byproducts. 
Gasoline prices impact spending and consumer confidence. A U.S. Gallup poll in August 2020 revealed that one's view of the economy appears to be inversely correlated to the price of gasoline. Increases in state gas prices create pessimism about the economy.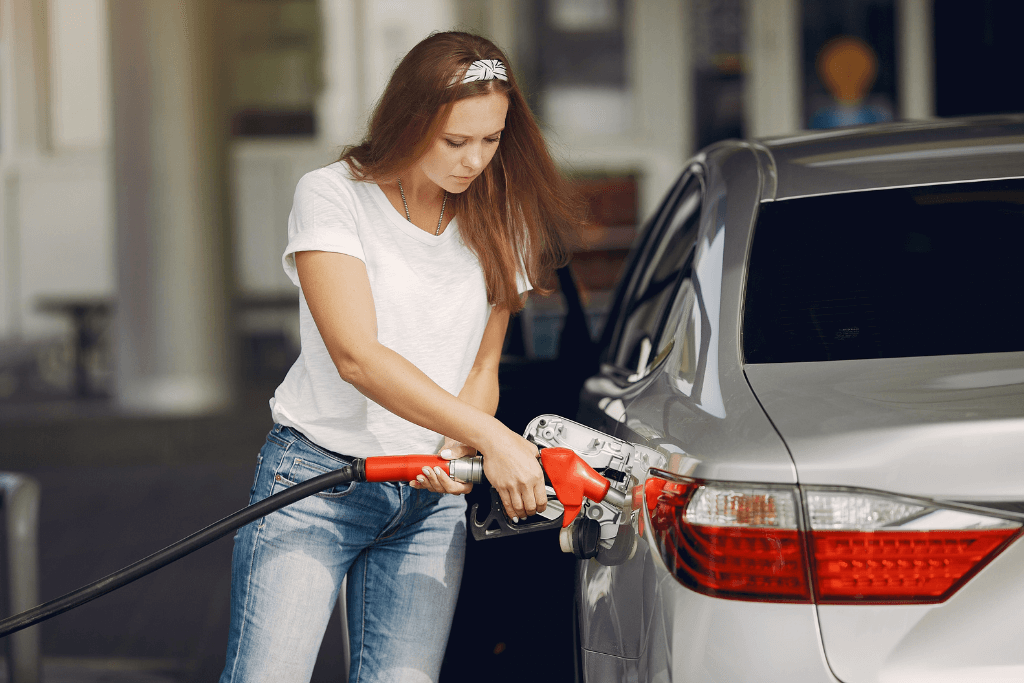 How to Reduce Your Gasoline Spending
Many companies are now offering remote work since adapting to the challenges of COVID.  Since you have a long commute, ask your employer to reduce the number of days that you need to drive into the office. Two of our employees with long commutes now only come into the office once per week. This has not only saved them gas money but also has improved the quality of their lives. 
In addition, I recommend you plan your outings to reduce drive time and mileage. Remove any unnecessary weight in the vehicle, and make sure your gas cap seals properly. Skip premium gas, and use grocery store loyalty cards for discounts. Budget for increased gasoline prices when making vacation plans. 
MoneyCrashers.com gives several tips to prepare for rising prices.
Inflate your tires to increase fuel efficiency.

Avoid speeding, rapid acceleration, and rapid braking, which lower fuel efficiency. 

Carpool, drive fuel-efficient cars, take public transportation, walk, or ride a bike.

Grow food, buy food in bulk, and purchase less meat.

Use

GasBuddy

to find the cheapest gas in your area.
How to Reduce Your Stress
I often say that 90% of what we are worried about will never happen. The Lord reminds us not to use our time and energy to try and project the future. 
"Therefore I tell you, do not be anxious for your life … But seek first the kingdom of God and His righteousness, and all these things shall be added to you. Therefore do not be anxious for tomorrow, for tomorrow will be anxious for itself. Sufficient for the day is its own trouble." (Matthew 6:25-34 ESV)
Taking one day at a time means keeping your thoughts confined to the present. Yes, we should all do scenario analysis to prepare for and avoid danger, but we should also trust the Lord for right now.  
One practice that I recommend is to verbalize all that you are certain about today. Make as long of a list as you can think of, and say it out loud. For example, I might say, " I am alive. I am able to walk, see, hear, smell, taste, touch, and talk. I am free. Our nation is not under the threat of an invasion. I have friends and family who love me. I can afford gasoline today. I have a job! The Lord knows me. The Lord cares for me. The Lord promises to provide for me…"  This will reduce your anxiety and bring your thoughts captive to enjoy what you do have and to praise the Lord for His goodness. 
You are not alone in your feelings of concern about the future, which is why I recently spoke about finding Renewed Hope in Crown's Winter update; you can view the 15 minute video here. Finally, I invite you to join me for more encouragement during our Spring update on Renewed Faith coming up soon on April 22nd. The virtual event is free, but registration is required, so sign up today.