Dear Chuck,
I've made many bad decisions that have negatively impacted my family financially. There are days when I honestly feel like giving up. I can't even afford to do nice things for the children during the holidays. We are in a dark hole, and it feels very hopeless. 
Dark Financial Hole 
Dear Dark Financial Hole, 
Financial pain creates some of the worst stress we ever experience because it is intertwined with our relationships, hopes, and dreams. It is especially hard during holiday seasons.
I, too, have made financial mistakes in my life. There were times when it seemed hopeless; there were years when I could not afford a nice Thanksgiving celebration or Christmas gifts. But let me assure you, there is hope for better days ahead. You and your family can climb out of this hole step by step. 
Invite God into Your Pain
Ask God to comfort you and give you His wisdom in all your financial decisions. I did this in 1999. I repented of the love of money and asked God to forgive me of my idolatry. Peace flooded my heart, mind, and soul. I re-ordered my financial strategies from living in man's economy to living in God's economy. Yes, my finances improved. But, more importantly, peace ruled my heart. I had a heart problem that needed fixing. 
Be Patient and Disciplined
Patience is necessary. You did not get into the problem overnight and will not get out of it quickly. But with careful, disciplined management of your finances, this problem will be overcome and likely never repeated. Pain is an excellent teacher if we learn from it. Discipline is the ability to say No to what we want today so that we can Yes to what we need tomorrow. And what you need is a simple plan that you repeat every day: spend less than you earn, give first, save second, and pay off debt.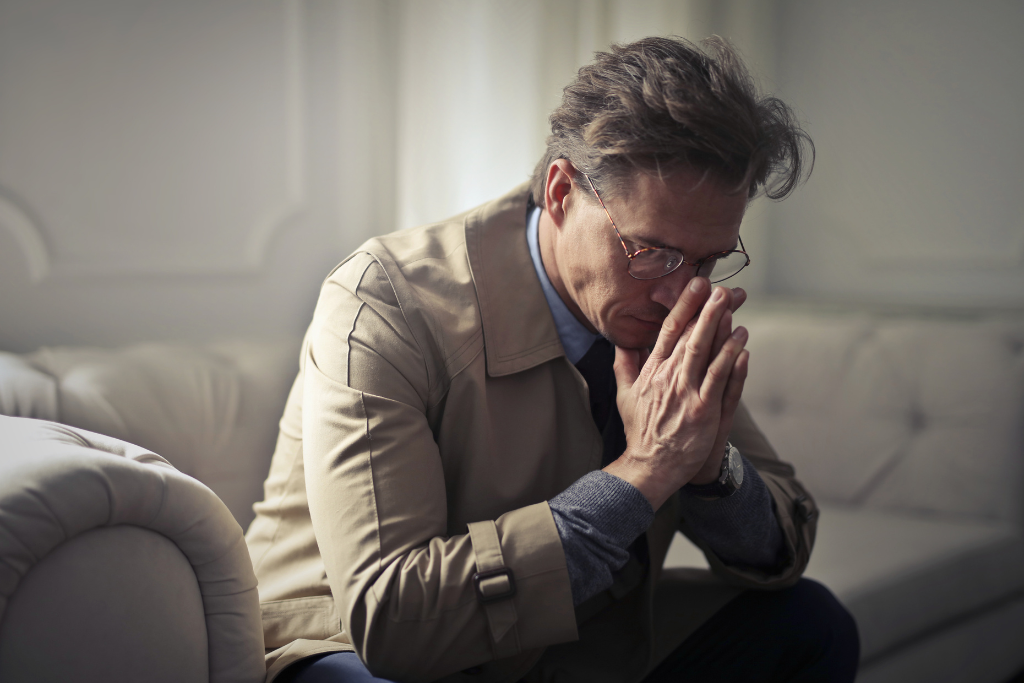 Optimistic Resilience 
Working through financial struggles can make you more resilient and compassionate toward others. You will discover true friendships, and those relationships will deepen. You will be stretched in ways you never imagined—but all for your good. You will find new strengths and discover resources, talents, and abilities you didn't know you had. In all this, you will find hope and make daily progress.  
Scripture to Remember
Trust God to provide.
And my God will supply every need of yours according to his riches in glory in Christ Jesus. (Phil. 4:19 ESV)
Ask for strength and discipline to work hard. 
In all toil there is profit, but mere talk tends only to poverty. (Proverbs 14:23 ESV)
Pay your debts, and give. 
The wicked borrows but does not pay back, but the righteous is generous and gives. (Psalm 37:21 ESV)
Be content, and give thanks for what you have. 
For I have learned in whatever situation I am to be content.  I know how to be brought low, and I know how to abound. In any and every circumstance, I have learned the secret of facing plenty and hunger, abundance and need. I can do all things through him who strengthens me. (Phil. 4:11–13 ESV)
Get Focused and Get Started
Set goals, and seek the help of a trusted advisor/mentor. Simplify your budget by temporarily going on a needs-based-only diet. Consider it a spending fast. Cut out everything except basic necessities: shelter, transportation, health, insurance, food, and education. A Crown Budget Coach can help! 
If you have an expensive car, trade it for a cheaper, reliable vehicle. Own too much house? Consider selling and renting until your situation improves dramatically. Some people move to tiny homes or rural settings for cheaper housing or move in with friends or family. Ask God to help you think outside the box. Do not worry about what others may think. They are probably too concerned about their own problems and may follow your lead! It takes courage to change one's lifestyle in the fight for financial freedom. 
Ann's Tips for Saving Money
My wife helps me with these questions, and she is an expert when it comes to being frugal. Here are some of her tips for you:  
If you regularly eat out, limit it to once a month. Learn to grocery shop wisely: look for sales and in-season produce. Cook from scratch. Make it a fun team effort! Rather than eat out, host potlucks and game nights with friends. Be creative, and change grumbling to praise or gratitude. 

Temporarily eliminate anything unnecessary for survival: eating out, entertainment, streaming services, shopping for clothes and shoes, etc. This can be difficult, but much progress can be made when living like this. Bring in extra income, and you will make greater strides. 
Hope and Financial Margin
Many Americans have not learned the benefit of living with margin—spending less than we earn. It is a freedom that removes fear and doubt. It grants confidence for the days ahead, gratitude for what we have, and dignity. Rather than relying on hand-outs or borrowing from others, we make progress in hard work and planning. This sets an example for those around us.  
You will make it through the holidays with a focus on love and gratitude. Brighter holidays are ahead if you take it one day at a time. 
God promises to provide for us. But often, He asks us to step out in faith and do our part first. Our obedience or disobedience doesn't change His character but can change our outcome.
Our soul waits for the Lord; he is our help and our shield.
For our heart is glad in him, because we trust in his holy name.
Let your steadfast love, O Lord, be upon us, even as we hope in you.
Psalm 33:20–22 ESV
Read How to Reduce Financial Stress and Help My Financial Anxiety for more information.If credit card debt is a financial stressor, Christian Credit Counselors is a trusted source of help. Contact them, and they can help you get on the road to financial freedom.


This article was originally published on The Christian Post on November 17, 2023.