Do you dream of working from home?
Dell Corporation has a company statement that reads, "Technology now allows people to connect anytime, anywhere, to anyone in the world, from almost any device. This is dramatically changing the way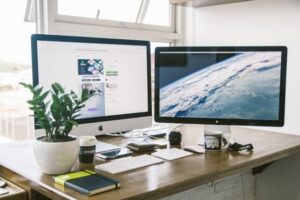 people work, facilitating 24/7 collaboration with colleagues who are dispersed across time zones, countries, and continents."
Yes, traditional employment has certainly changed.
According to Kate Ashford, a Forbes Contributor, there are 8 ways to determine if you should work remotely.
1. You must be a self-starter, not dependent on others to meet deadlines.
2. You must understand the work hours. Are they traditional or flexible?
3. You must be a good communicator. Strong work relationships with coworkers are vital, and reading body language is not possible when working remotely,
4. You should be content to work alone. If you like a teamwork environment where you think through things with others or enjoy interacting with clients and coworkers, remote work may be too lonely for you.
5. You must be focused. Working from home means you have to ignore the demands of home and family until after hours
6. You should be comfortable with connectivity tools. In today's world, remote workers must be comfortable with the technology of instant messaging, online meeting tools, audio and video conferencing.
7. You must have an understanding family. For adequate concentration and maximum performance,  parameters for your workspace and hours must be respected.
8. You must have reliable internet connection.
If you meet these qualifications, then you may want to consider a remote employment option, or possibly starting your own business from home.
Remember this, regardless of where you work: "Whatever you do, work heartily, as for the Lord and not for men!" Colossians 3:23
If you are working towards becoming free from credit card debt, get in touch with our friends at Christian Credit Counselors. Their professional, friendly team is ready to get you started on the path to living without credit card debt and can get you started with a free debt analysis today.