The most common traps to overspending at the holidays and tips on how you can avoid them
Christmas shopping can be the most expensive and stressful shopping experience of the entire year year. Many stores count on last minute, frantic shoppers to overspend out of desperation. So wehave compiled a list of these Christmas Budget Busters for you to look out for and tips on how to avoid them.
Procrastinating.
We've all been guilty of this at some point, but procrastinating around Christmastime is a dangerous budget-buster. If you feel stressed, frantic, or rushed while you are shopping, you're likely to spend more than you planned. Stores anticipate this and place the big, sparkly displays with the over-priced items in the most visible places throughout the store. You see it, grab something in a rush, and checkout without even consulting your list or budget.
How to avoid it: Shop smart! If you have waited to the last minute, take a friend or set up accountability for yourself when you go shopping. Cramming in last minute shopping shouldn't force you overspend or go into debt.
This year's must-haves.
While buying special intentional gifts is better than gift cards, there is a long list of the hottest toys and items of the season and they can be expensive. They are advertised frequently and loudly to convince your kids, family, and friends that their lives in the next year won't be as good as someone else's without it. The truth is, most of these items are extremely overpriced around this time and prices will drop over the next 6-8 months, when some of the hype has died down.
How to avoid it: Explain to your kids or family why they shouldn't expect to get that item from you for Christmas, but it could be revisited later in the year if it's still something they want. Let the excitement about the item die down before you decide to pay full price for it. Give special gifts by making them or giving an experience instead.
The trigger store.
Do you have a trigger store? This is the store where you leave with way more than was on your list, and sometimes you even forget the item that was on your list in the first place! A lot of us have a store like this, which is why it's a lethal budget-buster around Christmastime.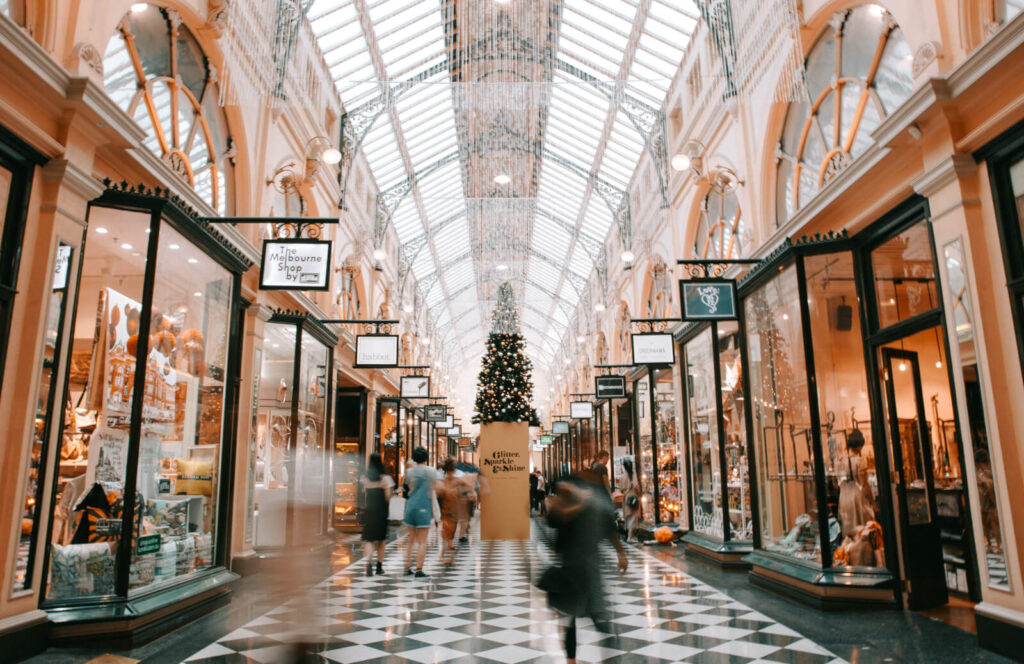 How to avoid it: Don't let yourself shop there for anything or anyone. And if you have to, do it online. Ask for gift cards here from friends and family so you can enjoy some guilt-free shopping in the new year, but don't let yourself in the doors for the month of December.
The over-promised commercial.
Ever notice how you'll see the same commercial over and over starting around Thanksgiving and leading all the way up to Christmas? It may be for a sale on diamond jewelry or the best-selling toy of the season. But when you get to the store, the item is completely sold out, even though the commercial is still running? The store is luring you in with a familiar and enticing ad but then forcing you buying a different item since the marketed one sold out long before. Chances are that since you're already at the store, you'll end up spending more money in the long-run since you don't want to keep shopping around.
How to avoid it: Ignore commercials and research Christmas items. Get wish lists from family and friends and shop for specific items. Try calling stores before you go in to see if they have your item in stock and if they're able to hold it for you. If the item you were hoping to purchase is sold out, don't give in to the temptation to spend more for convenience's sake.
The friendly sales clerk.
Hopefully you get to interact with a friendly sales clerk, and not a grinch, but many of them will try to upsell you on what you're purchasing or add related items to your purchase. Many stores hire seasonal employees to compensate for the busyness of the Christmas season and they are making money based off commission, so they are very motivated to get you to spend more.
How to avoid it: As nicely and politely as you can, stick to your original list and say "no" as many times as it takes. If you didn't think of buying the more expensive model or the 15 accessories to go along with your item before you got to the store, you don't need them once you are at the store. Stay strong and say no.
The too-good-to-be-true sale.
Stores also target your budget-minded self with good sales leading up to Christmas so you'll buy things you don't need and still spend more than you had planned on. These sales may be advertised with big signage, brought up when you check out, and set up all around the store. Even though it seems like a good deal, spending more than you budgeted for is never a good idea, no matter what the value may be.
How to avoid it: Stick only with what's on your list. Write your list down with a pen and paper so you can cross each item off as you purchase them. Items only come off the list, nothing is added to the list. Congratulate yourself when you get to the car for staying strong and not giving in to the temptations of sales!
Hopefully these budget busters and ways to avoid them will help you have a very Merry Christmas and budget-friendly New Year. If your goal is stress-free Christmas shopping, download our 12 Tips printable here.