Dear Chuck,
I've been following Crown Financial Ministries for years and appreciate your advice on avoiding debt and putting God first through tithing, but is there ever a time when you SHOULD spend money?
Just Curious
Dear Curious,
The short answer to your question is YES. Let me offer two times when it is good and right to spend money.
The most appropriate time to spend money is when it meets the needs of your family. We are admonished in Scripture to take care of our family. They are our priority in spending. We should never feel guilty for spending money that is used to take care of our spouse and children.
The next most appropriate time to spend money is when it can save all kinds of expensive problems later.  It is particularly important to spend a little money to save in your own home. With spring in the air, this is the perfect time to do some home maintenance to take care of what is most likely your biggest investment.
Here are a few tips for heading off painfully expensive issues:
Avoid washing machine woes.
Did you know that water damage from washing machines causes one of the TOP FIVE home insurance claims? Floodchek.com notes, "Of all water damage claims related to washing machines, more than half – nearly 55% – are from water supply hoses that leaked or burst. And these claims are costly, with the average claim running more than $6,000." When you consider that a washing machine hose can cost $10 to $30, clearly regular replacement is worth your investment. One more tip: take a look at whether you have a recessed washer box on your washing machine that allows you to turn off the water. If you do, be sure to turn off the water when your machine is not in use or when you travel.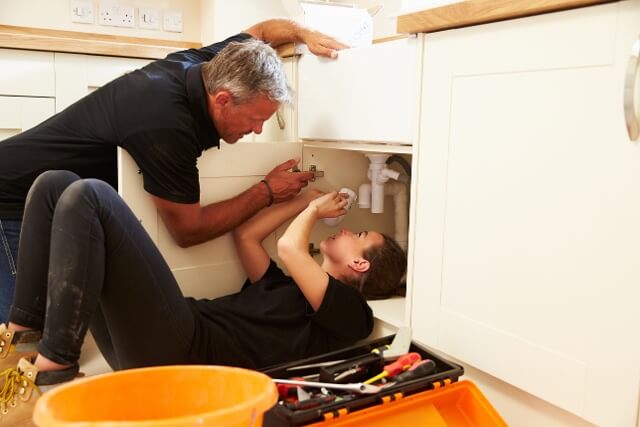 Avoid water in your outlets.
Many of us don't have the right kind of weather-proofing electrical outlet covers on outside power sources. A bubble cover better protects your electrical system and costs generally less than $20. Water in your system can lead to a fire, damage to your circuits, or damage to your wiring … all costly fixes. When is the last time you checked the condition of your outlets?
Avoid the basement flood.
With all the spring showers, it can quickly become obvious that your yard is soggy or your basement is taking on water. Your solution may simply be a French drain, installed outside your house to provide better drainage. You will want to talk with a landscaper or professional installer about the project, as it involves digging a trench and laying special drains. A French drain 30 to 50 feet long could average $750 to $1,250 to install. But consider the high cost of a basement flood or damage to the foundation. A light clean up could run $1,000, and if mold or mildew sets in, costs can run from $3,000 to as much as $10,000. And none of those costs include what you might spend to replace drywall, carpet, or your possessions.
Avoid the birds.
Many of us enjoy waking to the sounds of birds, heralding spring's return, but just where are those feathered friends nesting? Check your air vents that expel air or draw it into your house, making sure they are not blocked or a home to birds. Should birds nest in your home's vents, the cost of removal can include an exterminator followed by the need to replace portions of your air venting system, walls, or ceilings. You can prevent this problem with vent screens that cost very little. When birds nested in an air vent from the master bathroom owned by friends of mine, at first it seemed charming. But several of the baby birds died in the nest, deep in the ceiling of the bathroom. The bathroom ceiling had to be partially opened and all the venting replaced, resulting in about $3,000 in repairs. When the project was finished, the new venting was capped with a $3 screen.
Avoid paying for labor … if you can.
It's not uncommon for labor to be about half the cost of a project. Consider that on a minor bathroom remodel, that could easily be up to $10,000. Spring can be a good time to check out free classes at home improvement stores to learn whether you can lay your own bathroom tile and swap out leaky faucets (that are literally spending money with every drip). Also, check out YouTube for DIY instruction videos!
The need to take care of our property is as old as mankind. In Genesis 2:15 we read, "The Lord God took the man and put him in the Garden of Eden to work it and keep it." To keep your house in order, home improvement expert Bob Vila recommends a spring home maintenance checklist, which can be a fun family weekend project. Also, make it a priority to save $1,000. This is the first step on the Money Map, which helps you achieve financial milestones and learn biblical principles. It's a practical guide to help you take control of your finances and find freedom. With a little effort, you can save a lot of money and protect the home that God has given you.
Originally posted on the Christian Post April 21, 2017.