My wife, Ann, and I got married at Christmas our senior year in college. This year we will celebrate 39 years of marriage! Unfortunately, it took us 21 years before we were on the same page financially.
A Crown Study was what finally got us on the same page about our money in 1999. There is so much freedom when spouses are united around what the Bible says about money and setting proper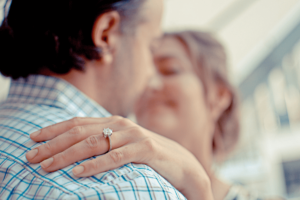 goals. But that doesn't make it easy!
No matter how long you have been married, it is difficult to get on the same page as your spouse about money. But there's no better time to start than now, especially for young couples.
Knight Kiplinger at Kiplinger.com gives 5 financial tips for newlyweds:
Don't jack up your lifestyle.
Live on one salary, save the other.
Max out retirement savings.
Get some insurance.
Enjoy life together.
In addition, I suggest you:
Establish the discipline of tithing and saving from the start
Decide who is going to pay the bills
Organize your physical and online space
Create a budget
Eliminate all high interest credit card debt
Establish your emergency fund
Make your spouse the beneficiary on all accounts, and create a will
Discuss short- and long-term financial plans
Seek the advice of a trusted mentor
Unless your parents are paying for your wedding, your immediate goal may be paying for the big event. If that's the case, remember to spend wisely and avoid going into debt. Yesterday's post on how to have a frugal wedding might be helpful to you.
Fidelity.com has a Getting Married Checklist with some very practical tips. Regardless of whether you have questions about short-term needs or long-term strategies, you may benefit from their suggestions.
Finally, Deuteronomy 6:5 says, "You shall love the Lord your God with all your heart and with all your soul and with all your might." Honoring Him with all He's provided for you is the best way to start a marriage.
Did you know that we offer a comprehensive online course in biblical financial management? The MoneyLife Personal Finance Study will help you get out of debt, increase savings, and decrease stress. It could be life changing!