Christmas may still seem far away – for most, school is back in session, the leaves haven't started changing yet, and it's still so hot outside, just the thought of a fireplace and hot chocolate makes you sweat.  
However, when it comes to your budget, Christmas is closer than you think. In 3 short months, the colorful, twinkly store displays will make their annual appearance, signaling Americans to venture out in droves and launch the biggest shopping season of the year.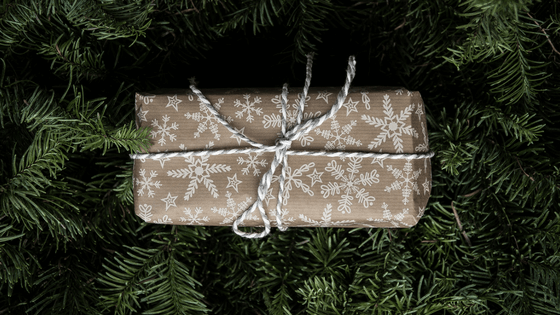 Sadly, the day meant to celebrate the birth of our Savior has been turned into a day focused on ourselves. Spending, eating, and celebrating in extravagance, without regard or reverence for who we are celebrating.
But just like so many other events and habits in our culture, it gives Christians an opportunity to look, act, and spend differently than the rest of the world.
I'm not suggesting you become a Scrooge. I'm encouraging each of us to practice discipline now so we can focus on what really matters then.
By saving and planning now, not only will you save yourself time and money in a few months, it will free you up to focus on Christ and His gift to each of us! Remember that we are stewards – managers, not owners, of all we have. The online MoneyLife Personal Finance Study takes an in-depth look at what this really means and how to apply it in your life. You can enroll in the self-paced course to learn how God desires for you to use the time, talent, and money He's given you.
Go big and make a goal to save $1,000 by Christmas.
Maybe that's your entire gift budget for everyone on your list. Maybe God is prompting you to use that money to buy Christmas dinners or gifts for others in need. Maybe there is a missions trip you can fund as a gift to someone else, or you can use it to pay off debt headed into the new year. Whatever you decide to use that money for, start saving now and experience the joy that comes with having the cash in hand for Christmas.
And it may not be as difficult as you think – there are 117 days between now and Christmas. To save $1,000 in 117 days, you need to save $8.55 a day from now until then. Here are some ways to reach your goal:
1. Use Coupons.
There are many different coupon apps and websites now that will help you save easily. Many stores and grocers now have their own apps to help you save on their products. You can also explore rebate apps to earn some money back on purchases you make. Without putting much time into it, you can save at least $5 with coupons and/or rebates for every grocery trip you make. (The more time you spend looking for coupons and planning, the more you can save.) If you go to the grocery store once a week between now and Christmas, you can contribute $80 to your goal.
2. Sack Lunch.
Eating out during the week can cost you a LOT of money. The average meal out is about $12, compared to an average lunch from home about $5. That's a savings of $7 a day. Assuming you replace 3 meals out a week with a sack lunch from home, you'll save $21 each week – adding almost $350 to your goal.
3. No Spending Week.
Plan ahead and decide to go one full week without spending a CENT (unless of course, you have bills due that week – that kind of spending is acceptable). Make sure you have enough groceries to get you through a full 7 days of eating at home, make your own coffee, and fill your car up with gas before the week begins. Save $300.
4. Carpool for a Week.
Try catching a ride to and from work during your no-spending week. Find friends to drive you to church, or make the most of the last of summer and walk or ride your bike to and fro. About half of all workers spend $25-50 each week driving to and from work alone. Add in trips to the store, church, etc. and you're looking at a savings of about $75.  
5. Drink Water Only
.
The average American household spends $850 every year on soda ($16 a week), and $1,100 every year on coffee ($21 a week). Ignoring any money spent on alcoholic drinks, or other beverages, drinking only water between now and Christmas would save you over $610.  
6. Cut Cable.
The average cable bill can run anywhere from $20 to $180, but the average family spends somewhere around $70 a month for cable. Cut it out for the next 3 months, and you'll easily add $210 to your goal.  
7. Skip Netflix.
A Netflix subscription currently costs $8-12 a month, but is expected to increase over the next few quarters. If you cut Netflix for the next 3 months, you could add $24-$36 to your goal.
8. Hair Cuts at Home.
Crown CEO, Chuck Bentley, says "creativity blossoms when economy demands". If you're trying to save, it may be time to use gifts and talents or learn how to do some new things. A simple haircut for a woman costs $43, and $28 for a man. Learn to cut your spouse's and/or children's hair once a month at home, and save $84-$129 over the next 3 months.    

9. Exercise at Home.
Just like you can save money on haircuts at home, you can also save a lot of money by exercising at home. The average gym membership costs $58 per month, but only 33% of people with memberships actually use them. Cancel your membership, find some free videos online or pick up running, and save an extra $174.
10. Plan Your Meals.
Meal planning and prepping will save you money at the grocery store and at home. It can help you cut down on food waste, the number of trips to the grocery store, uneaten leftovers, ordering in or going out, and make better use out of ingredients you're already buying. You can find some great meal plans with shopping lists on Pinterest and money-saving blogs. A little bit of time planning can save you $50 a week – a whopping $800 between now and Christmas!
All these ideas combined will save you $2,707 on the low end – almost tripling your goal of $1,000. With time on your side, you can enter the holiday season stress-free and financially prepared. Best of all, you'll be ready to celebrate the miracle of Christ with a thankful heart.
Making little changes like these can have a big impact not only on your budget, but your heart as well. It's all part of becoming a steward from the inside out. If you want to take the next step and learn more about what stewardship means, enroll in Crown's online MoneyLife Personal Finance study. [/vc_column_text][/vc_column][/vc_row]