Dear Chuck,
With Valentine's Day approaching, I wonder if it's really necessary to spend a lot of money on a holiday that feels a bit made up. I'm feeling manipulated but I don't want to disappoint my wife. Is Valentine's Day worth celebrating, and how much is too much?
– Husband Needs Help
Dear Husband,
As a husband myself, I understand that Valentine's Day can be an expensive day! Last year an estimated $19 billion was spent on this holiday. As people who desire to be good stewards and still show our love, we can find budget-friendly, creative alternatives to honor those we hold dear.
So here is my advice for not breaking the bank to honor your love.
Instead of going out, try cooking new recipes together.
Support a local coffee shop or bakery and try something new.
Plan a walk, hike, or bike ride followed by a picnic together.
Snuggle up on the couch with some popcorn and borrow or rent a good movie.
Play a silly board game or go old school with a jigsaw puzzle.
No matter what you do, put your phones and computers away for an evening and give your full time and attention to one another. I know for my wife, the gift of my attention and servitude means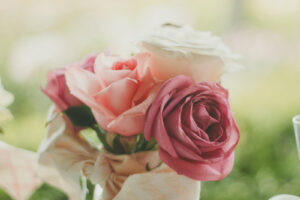 much more than a giant teddy bear or box of chocolates.
When our children were young, Ann would give them little gifts that spoke of the greatest love – new Bibles, scripture bookmarks, and homemade heart cookies that were sweet reminders of God's love. One couple we knew kept a Valentine Card, and gave it to one another each year with a new sentiment added. Now, that's frugal and thoughtful!
The real question is what things are special to you as a couple, because it doesn't matter what everyone else does to celebrate. Looking at some of the recent spending projections for the holiday, however, I would argue that Valentine's Day shopping has gotten out of hand, as more than half of us prepare to make some kind of splash, trying to show love with things.
In 2016, according to the National Retail Federation, men spent an average of $134 while women spent a little more than $62. In fact, a lot of people will even spend about $26 on their pets, according to Forbes. Breaking it down even more, Bankrate put together a "Be My Valentine Index," looking some of the most  popular Valentine's Day items and their average prices including:
a box of chocolates – $15.11
diamond earrings – $323.26
a dozen roses – $41.66
dinner for two – $80.46
a bottle of champagne – $51.54
My wife Ann and I choose not to make a purchase the center of our Valentine's Day celebration. For us, time together is the gift we most value, and frankly, arranging to have a moment alone is an accomplishment! In fact, with so many of us caught in a whirlwind of activities and commitments, finding a quiet moment can take more effort than a quick purchase.
Understanding the history of Valentine's Day can also refocus our priorities in a positive way. St. Valentine was a priest in Rome at the time of Emperor Claudius II. He was performing marriages in secret because the emperor had banned couples from being married or engaged in an effort to force men to join his army. Though St. Valentine paid for his efforts with his life, he is celebrated for his efforts to honor God's command above man's earthly pursuits.
A godly man puts his wife and family before himself. Ephesians 5 teaches that men are to love their wives as Christ loves the church, being willing to sacrifice, cherish and care for them. That kind of love forgives and forgets past wrongs, or as Proverbs 10:12, says, "Hatred stirs up strife, but love covers all offenses." That kind of love sees the best in someone else.
The bottom line is to be thoughtful in the gifts you chose, not indulgent and lavish.
Maybe the most loving thing you can do this year is to stay on budget! You can do that with a little planning and prayer.
Above all, don't feel pressured by others to spend a lot of money. Stay on track with your financial goals!
Consider making a plan to really spend time together throughout the year, building your relationship on a strong, biblical foundation. Crown has a new online study that you and your spouse or fiance can participate in together. You'll understand how you and your partner feel and think about money and what God thinks about the kinds of choices couples face every day. This kind of gift – time together in God's Word – can do so much more for a relationship than flowers.
So please do celebrate St. Valentine's Day, but not with a credit card charge. Invest your time in building up your relationship because as it says in Ecclesiastes 4, two are better than one!