Are you attending any weddings this summer? It's the height of wedding season right now, which can get expensive quickly.
If you are paying for travel costs, a hotel, possibly a new outfit, and a gift, the cost of attending a wedding can skyrocket. In fact, according to Consumer Affairs, the average American will spend over $700 just to attend a wedding. That price is likely to increase if you're in the wedding or a Millennial.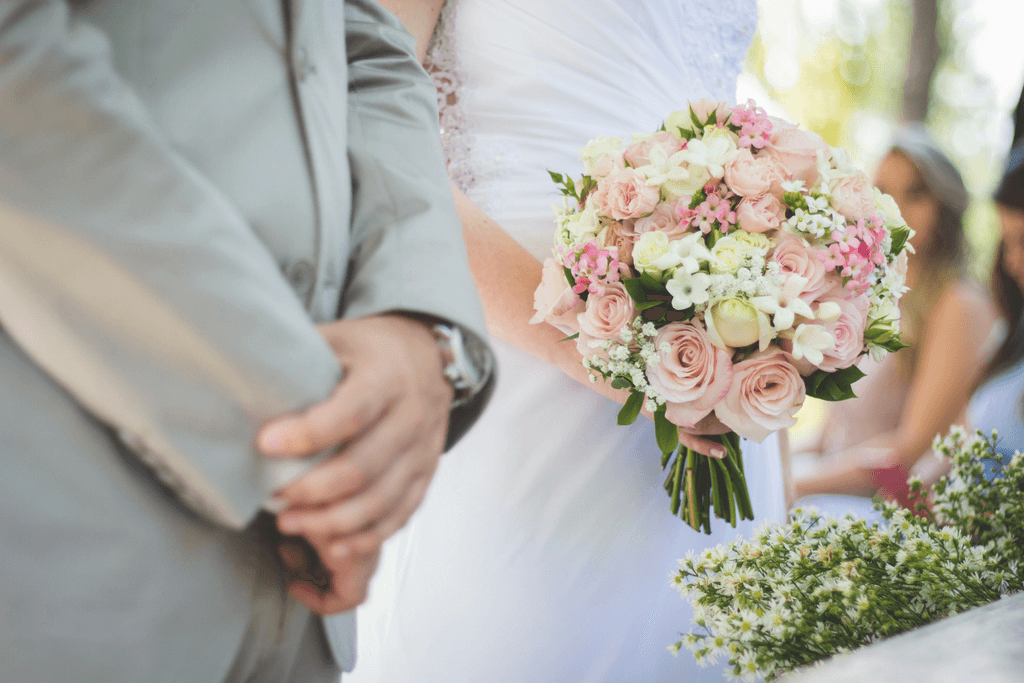 So how do you still make an effort to give thoughtful and useful gifts without ruining your own budget in the process? We've compiled some of our favorite wedding (and shower) gifts that are under $30, as well as some "gift hacks" to help you make it through the summer.
Budget-Friendly Gifts:
Your Time or Services. If you have great handwriting, offer to hand letter the ever-present chalkboard signs, or address invitations. You can also bargain hunt for the chalkboards or signs at consignment stores, used wedding supply stores, Goodwill, Walmart, or Hobby Lobby. If you're talented with graphic design, offer to design and print the wedding programs free of charge. If you're a musician, offer to play for the wedding. If you're extremely organized, offer to help with making a timeline or a seating chart. If you're good at doing hair or makeup, offer to do the bride's and/or bridesmaids' free of charge. If there will be a lot of guests coming in from out of town, offer to house the bridal party or family in your home. Host a brunch for the bridal party a few days before the wedding.
Home Essentials Kit. These work best if the bride and groom are moving into an apartment or home that one of them has not previously inhabited. Put together some practical home items in a cute basket or trash can, or get really creative and make them a housewarming "cake".
Sentimental Touches. Take an extra wedding invitation and put it in a nice frame, or cut it into small strips to put in a pretty Christmas ornament like this. Little details from the big day are easy to forget and they'll appreciate having them to remember later on. Write letters from you and your spouse for the bride and groom to open on different anniversaries (1 month, 3 months, 6 months, etc.) throughout the next year. Include encouragement, Bible verses, and wisdom that other couples have shared with you.

Stamps. The bride and groom are going to have a lot of thank-you notes to write and buying all the stamps can be expensive. For an extra touch, have the stamps personalized without spending more than $25.
Family Recipe Cookbook. Collect recipes from both sides of the family and compile them in a sweet cookbook for the couple. Try to have everyone write the recipe in their own handwriting and include a note, verse, or piece of encouragement for the couple. Put them together in a photo album or binder – and be sure to leave some blank pages for the bride and groom to add their own recipes!
Kitchen Items + Recipes. Give one of your favorite recipes with the kitchen item that goes along with it. For example, buy the couple a waffle maker and include your famous waffle recipe. (Try to pick an item off their registry to be sure they'll put it to use, but add the personal touch of a beloved recipe.)
Get Well Kit. There is often stress involved in planning a wedding, which means immune systems are weakened and can crash after the big day. A Get Well Kit like this one comes in handy at any time, but especially post-wedding!
Perfect Pairs Kit. Get creative and put together a "Perfect "Pairs" kit like this one to add some personality to everyday items.
Gift Cards.Pay for a date night by giving them a gift card to a restaurant or movie theater. A gift card to Lowes or Home Depot will also come in handy!
Monogrammed Items.Things like coasters, towels, napkins, placemats, cutting boards, and blankets are all home essentials that are made a little more special with some personalization.
Bonus! This is your extra gift idea – the online MoneyLife Personal Finance Study. Navigating finances as a newlywed can be both stressful and overwhelming! Give the new couple a head start by blessing them with Crown's online study. It's completely self-paced so they can start and finish whenever they want and it will help them establish their plan for a biblical financial future together.

Gift Hacks: 
Try to buy gifts off the registry early.

That way you have a larger selection to choose from, not just the expensive things left.

Watch for sales or free shipping offers.

Look for coupons online or in apps like

RetailMeNot

.

Buy the same gifts they have registered for at a different store for a cheaper price. If you find one of their registry items for less money somewhere else, you can always go online and mark the item as "purchased" even if it didn't come from that store.

Share the cost. If there's another friend or family member that can split the cost of an item with you, go for it and sign the card from both of you.
We hope that your summer is filled with quality time spent with friends and family! What are you doing this summer? Share your budget-friendly vacations, activities, and gifts with us!