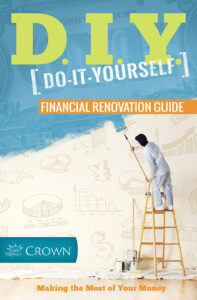 The DIY Financial Renovation guide can help you completely fix your finances. This guide contains practical truths for handling money God's way. It will provide you with:
10 Steps to Financial Freedom
Keys to living within your means
Steps to making a spending plan
6 steps to becoming debt-free
Everyday money-saving tips
Crown Financial Ministries is a 501c3 nonprofit organization supported by donor funding and product sales. Our mission is to train God's followers to be good and faithful stewards in their personal finances and career. Read more about Crown's ministry in action here.

Our team strives to provide high-quality, relevant content like these blogs and other free resources to help you on your journey to true financial freedom. If you have been helped or encouraged today, please consider supporting Crown's ministry by making a donation.