Dear Chuck,
My elderly mother has started to want to give away items that she has collected through the years to her grandchildren. Unfortunately, the recipients are not as enamored with the cut glass bowls, serving dishes, jewelry, etc. I think it is sweet that she wants to share these meaningful gifts but afraid they will be tossed aside. Is there anything said in the Bible about passing down treasures to family members?  
Not-A-Hoarder
Dear Not-A-Hoarder,
Yes, the Bible has some guiding principles about passing down treasures to our family members and I will add some practical advice. This is a very relevant question!
Many of us accumulate things over the years that are passed down from our parents and other well-meaning relatives. There are boxes of trophies, books, collections, hobbies, and toys of our past or our children's. Add in the boxes of paperwork from previous jobs, taxes, school, and so on. Plus, all the boxes your parents have stored in their homes.
There comes a time, for our sanity and the sake of our loved ones when we need to sell, donate, or toss items that are just taking up space. It requires an investment of time and emotions.
Marni Jameson, author of "What to Save, What to Let Go", puts it like this:
"Parents of grown children, please sit down. I have some harsh news for you.
Your kids don't want your stuff. Don't take it personally. It's not that they don't love you. They don't love your furniture. The china hutch, the collectible figurines, your antique map or thimble collection, the sideboard, all those family treasures may hold many precious moments for you, but for your kids, not so much."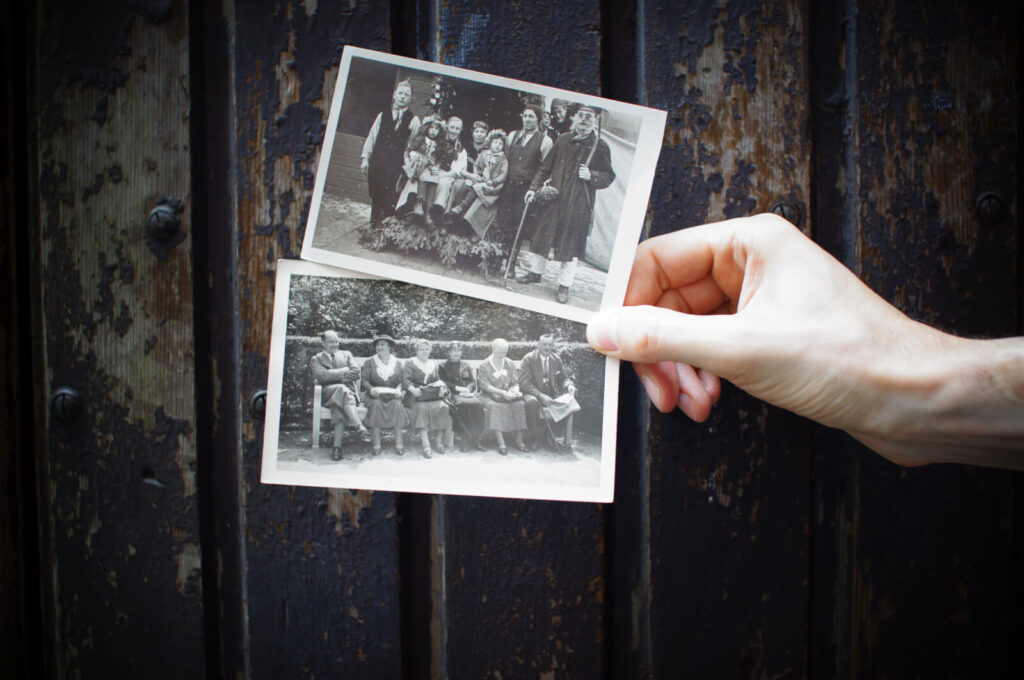 All you have to do is walk through an Antique Mall and see the stuff for sale. It's sobering and sad to look at all the things people purchased, collected, or hoarded.
People are living longer, so it's not uncommon for two generations to downsize at the same time. Many adults are in what's referred to as, "The Sandwich Generation" – taking care of both their parents and their own children. That makes this all the more challenging.
How Can We Help Our Parents Downsize?
Many parents believe their possessions will be a blessing to their children. Sometimes they are. But, they can also be a burden. So we need to have honest, loving conversations with mom and dad where we give them time to process what we're saying and understand that we are here to help.  
While emotional and tedious for both parties, tackling the job while they are alive can be a blessing and advantageous. You will share pieces of history and learn things you never knew about your loved ones. What a great time to document family history! Plus, it is easier to do while they can help!
Set a date and get it done – make it enjoyable as you listen to your parents tell stories about and share pieces of your history. Ask God for the strength to work with a loving, patient heart and to find joy in the process. Pray for wisdom and discernment on what to keep, sell, donate, or throw away.
Plan to set aside days or weeks to complete the job. Give it your full attention. You can recruit trustworthy siblings, cousins, or friends to make it more delightful. Make an event of it by planning fun meals or snacks each day to keep you energized. Set goals to accomplish.
Consider renting a dumpster or paying for extra trash to be hauled off. Avoid renting a storage unit unless it is absolutely necessary for a temporary period of time.
If you desire to sell valuable items, you will make more money if you aren't rushed. Search online for marketability and then find reputable appraisers or dealers for art and jewelry.
Books can be sold online, to used bookstores or donated. Photos and old letters can be scanned and saved.
Furniture may be sold through consignment stores, eBay or Craigslist. Consider donating to museums, charities, high school/college theater departments, or churches. You can give directly to people you know and even ask them to move it for you. Giving is a way to bless others who will value the items.
What About Our Stuff?
Don't assume your kids want it. Ask them first and honor their decision, remembering they are making their own homes based on their values and styles. Don't guilt trip them, and remember your relationship is of far more value than your things.
Matthew 6:19-21 reminds us:
"Do not store up for yourselves treasures on earth, where moths and vermin destroy, and where thieves break in and steal. But store up for yourselves treasures in heaven, where moths and vermin do not destroy, and where thieves do not break in and steal. For where your treasure is, there your heart will be also."
Younger people are living in smaller homes or apartments. Many are minimalists and value mobility, preferring to spend their money on experiences. As a result, they don't place sentimental value on the same things our parents and/or grandparents did.
Help for Today and Tomorrow
It is important to recognize that things will never fulfill us (or our children). Only Christ can. We should avoid accumulating possessions or going into debt for things we don't need. We must vigilantly protect ourselves from materialism so we can become better stewards.
Keeping our eyes on Jesus while loving the older and younger generations, we should remember what is of highest value in Proverbs 3:13-15:
"Blessed are those who find wisdom, those who gain understanding, for she is more profitable than silver and yields better returns than gold. She is more precious than rubies; nothing you desire can compare with her."
If you're looking for a little daily encouragement, please accept this gift from Crown. You can receive practical principles and daily encouragement from God's Word in the God is Faithful devotional, sent straight to your inbox to consider what God has to say about our daily life.
Originally posted on the Christian Post June 9, 2017